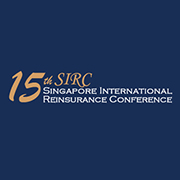 Dear Fellow Reinsurers, Insurers, Brokers and Industry Partners,
Thank you for attending last year's 14th Singapore International Reinsurance Conference (SIRC), as a non-delegate visitor where we trust you had very fruitful discussions with your business partners. As you will be aware, this year's 15th SIRC will be held from Mon, 29 Oct to Thu, 1 Nov on Level 3 of Sands Expo and Convention Centre, Marina Bay Sands Singapore, which we trust you are planning to attend again. In this regard, on behalf of the Organising Committee, we would like to encourage you to register as a Delegate, which entitles you to the following privileges:

• Full access to all Conference sessions, involving an august panel of speakers headlined by the Singapore Minister for Finance, Mr Heng Swee Keat and AIG President and CEO, Mr Brian Duperreault, who will speak at the Opening Ceremony on Mon, 29 Oct at 4.00pm. More details of the Programme can be found on the SIRC website or in the flyer.
• Invitation to Welcome Cocktail Reception on Mon, 29 Oct from 5.15pm to 7.30pm
• Access to Breakfasts, Afternoon Teabreaks and Lunches at the Bayview Foyer on Tue, 30 Oct; Wed, 31 Oct; and Thu, 1 Nov
• Listing in the Delegates List, which will be accessible by fellow delegates on the SIRC website and mobile app upon confirmation of registration, which will facilitate scheduling of meetings with your potential business partners.
• Option to book Private Meeting Rooms or Meeting Tables in the Lloyd's Coffee House or at the new SweetSpot Café Concession on the Conference floor for your business meetings.
• Option to book hotel accommodation at specially contracted rates the iconic Marina Bay Sands.
• Opportunity to be invited to private cocktail functions as well as the proposed Club Street Pub Crawl, when participating companies will play host at one of the participating pubs and bistros along the hip and vibrant Club Street – Ann Siang Hill enclave.

The above attractive package of privileges can be obtained with just a small investment in one of the following ways:
1. Register as a Delegate for SGD1,180 during the Early Registration period, which ends on Tuesday, 31 Jul, after which Delegate Registration fees will increase to SGD1,480. Hence, for those who have not already registered, we would encourage you to register soonest at the SIRC website to enjoy the discounted Registration Fee.
2. If your company or group is already a sponsor, exhibitor, or meeting host, then you are eligible to register as a Delegate at the exclusive rate of SGD500 per delegate.
3. Book a Meeting Table in the Lloyd's Coffee House (at SGD4,900 for a 6-8 seater table bundled with two complimentary delegate registrations) or SweetSpot Café Concession (from SGD4,600 for a 4-seater table bundled with two complimentary delegate registrations).

We do hope you find the above proposition sufficiently compelling and look forward to receiving your registration soonest as well as welcoming you to the 15th SIRC in less than 100 days' time.

Kind regards,
For and on behalf of the 15th SIRC Organising Committee

Jeffrey Yeo
Executive Director
Singapore Reinsurers' Association
Organiser and Conference Secretariat, 15th SIRC