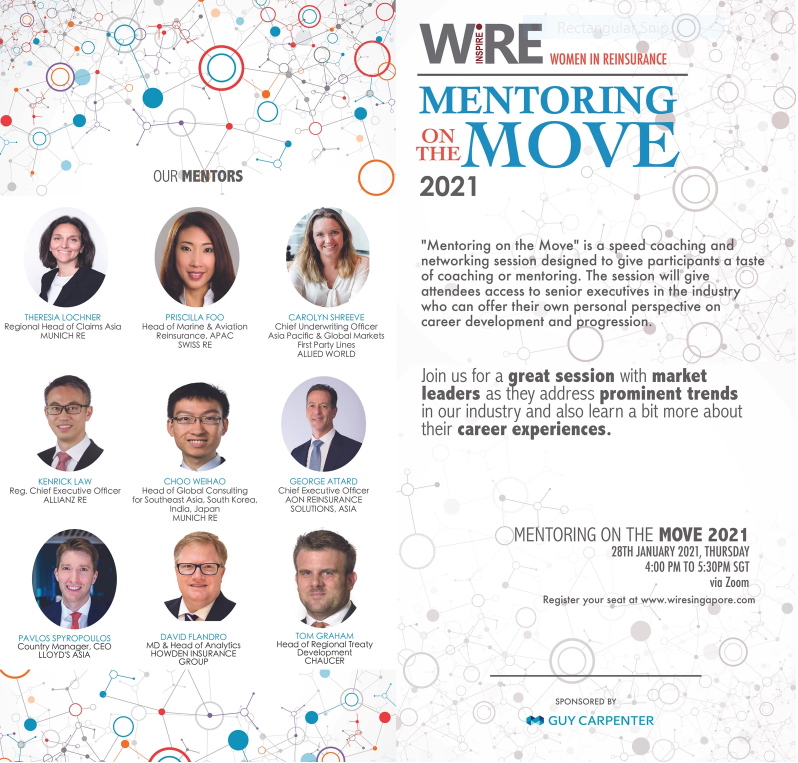 Women in Reinsurance (WiRE), the Sub-Committee of SRA recently conducted its virtual "MENTORING ON THE MOVE 2021" on Thu, 28 Jan from 4.00pm to 5.30pm.
The event has exceeded their expectations, attracting more than 50 Mentees from 21 insurance/reinsurance companies with 9 esteemed Mentors from a wide range of expertise and background.
"Mentoring on the Move" fosters interactive discussions, allowing participants the chance to get up close and personal with reinsurance industry senior executives. Mentors were allocated into 9 breakout groups covering different topics regarding career progression & leadership, building professional network & branding, and staying connected & relevant in a Covid environment.
There was also an Open Forum for free exchange of questions following the breakout sessions. The Mentors candidly answered a lot of questions and provided plenty of genuine advice and practical tips.
Read the full article from HERE
About the Women in Reinsurance (WiRE)
The Women in Reinsurance (WiRE) Singapore is an affiliate of the Sydney Chapter of WiRE, and was officially launched in September 2016 as a Sub-Committee of the Singapore Reinsurers' Association (SRA), with its own charter and Sub-Committee members selected from various SRA member companies. WiRE aims to offer support to women in the reinsurance industry through networking, knowledge sharing and mentoring activities. WiRE recognises the business benefits of having a diverse workforce at all levels and aims to actively encourage women to develop their careers to their full potential. Its activities are targeted towards personal and professional development with the aim of helping to facilitate the fulfilment of career objectives.